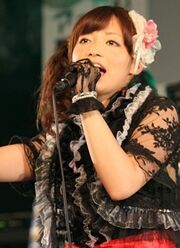 Haruka Yamazaki (山崎 はるか, Yamazaki Haruka), born on 27 June, 1991. She voiced Eita Kido as a child. Her birthplace is Kanagawa Prefecture, Japan.
Official Site: http://www.artsvision.c...
Read more at: http://www.wikipedia.org/wiki/Haruka_Yamazaki
Ad blocker interference detected!
Wikia is a free-to-use site that makes money from advertising. We have a modified experience for viewers using ad blockers

Wikia is not accessible if you've made further modifications. Remove the custom ad blocker rule(s) and the page will load as expected.